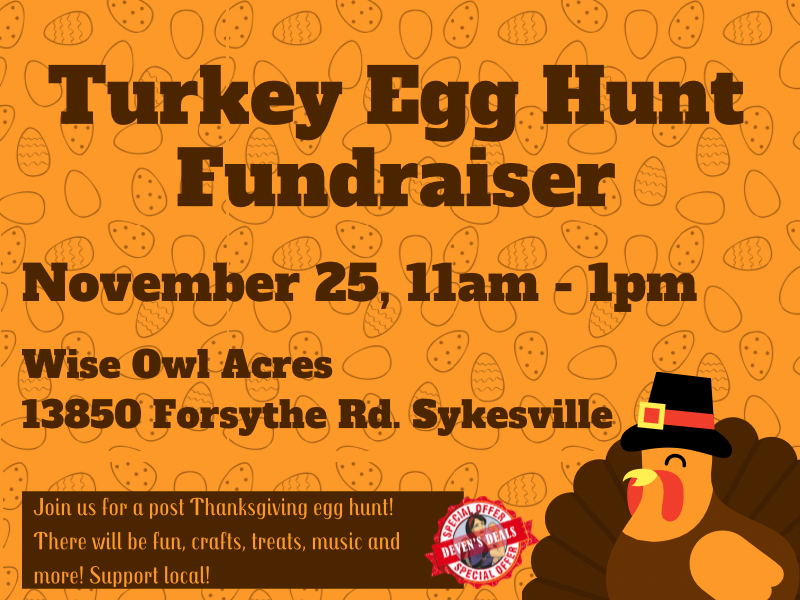 Turkey Egg Hunt Fundraiser
Join us for a Deven's Deals Turkey Egg Hunt and Fundraiser at Wise Owl Acres from 11 am to 1 pm! Support a local business, Deb's Place, that has served our community for 28 years. Deborah Cole has lived in 21784 for 45 years, and now needs our help! We are aiming to raise funds to get the business back on its feet after a recent setback. Let's rally together and make a difference!
What to expect:
Turkey Egg Hunt for all ages. Each child will be allowed one egg of each color. This keeps everything fair!
Crafts: Tables for making Fall and/or Thanksgiving-themed crafts using leaves, pinecones, and craft supplies.
Pumpkin Painting: Provide pumpkins and art supplies for a fun pumpkin painting activity.
Scarecrow making - Build your own scarecrow and make fun memories together!
How you can help-
Donated to Venmo (TBD)
Donate eggs (not real, Easter eggs please)
Donate candy
Donate Pumpkins
Donate clothing for the Scarecrow making
Local DJ to donate time for music and freeze dance
Sponsors are welcome to contribute. Contact DevensDeals@gmail.com for sponsorship details!
If you plan on attending, please bring cash for your generous donations and register so we have an idea of how many eggs and craft supplies we need!!
Your support means the world!
#CommunitySupport #Fundraiser #LocalBusinessLove